Multilingual Education Support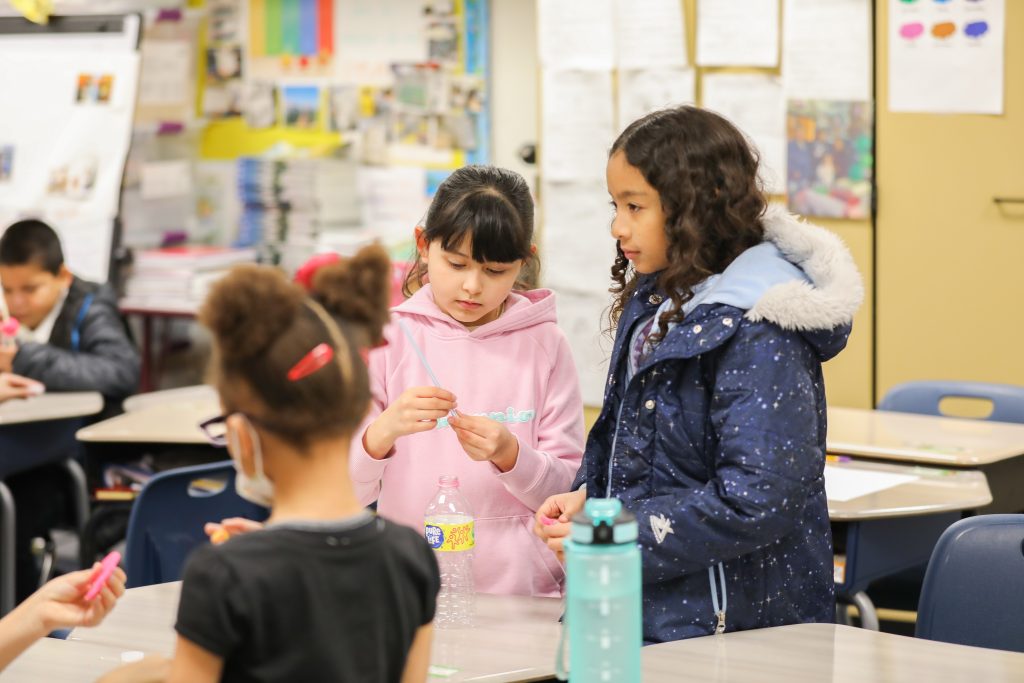 Multilingual Education/Newcomer Program
Place Bridge Academy is first and foremost a language based school. We emphasize the importance of language for success in education. With a diverse student body, our staff is highly trained on supporting language learners of all levels and classes have intentional content and language objectives. This focus in all of our classrooms supports our English language learners as well as native English speakers. Our school has several programs that best meet the needs of our students.
ELA-S/ELA-É Instruction
Place Bridge Academy has both ELA-E and ELA-S services for students. Our ELA-E program (ECE-8th grade) is where instruction is 100% in English, while our ELA-S program (ECE-5th) is a biliteracy program for Spanish speakers. Instruction is split between Spanish and English based on the dual language allocation guide of Denver Public Schools. Younger students receive instruction primarily in Spanish and English instruction is increased as they progress through the grades. The goal of the ELA-S program is for students to be proficient in both English and Spanish once they exit fifth grade. Our middle school does not offer ELA-S services.
Newcomer Center
Place Bridge Academy is a district newcomer center for grades 1-5. Newcomer programs are designed for students who are new to the county and have limited English exposure. At Place Bridge Academy we value supporting all students, especially those who are new to the country and are learning to be proficient English language learners. To qualify for our Newcomer Center, students must meet the district definition of a Newcomer student. This program is designed to help support early language learners in a new educational environment. Newcomer classes are meant to build English language acquisition skills quickly while supporting the social emotional needs of our students. Newcomer classes are designed to build English language skills in all content classes while exposing students to grade level expectations so they will be successful learners throughout their academic careers.
Our newcomer program is designed to keep class sizes small (15 students or less). Classes emphasize language growth in all domains (reading, writing, listening, and speaking). In addition, the social emotional needs of students and families who are new to the country and have limited English exposure are emphasized. Students receive additional social emotional supports and connections are made to support families when able. Students who qualify for the Newcomer Center will typically be enrolled for two semesters (one school year), though a third semester may be needed based on the progress of the student. Teachers in the Newcomer Center classes monitor the academic and English language growth of students and recommend them for transition out of the Newcomer Center when they have reached their language acquisition goals.
Native Language Tutors
Place Bridge Academy is fortunate to have many languages spoken in our student body. For many of our more frequently spoken languages, we have Native Language Tutors available. These staff members are fluent in one (or more) native languages for our students and offer academic support to students. This academic support is in the native language of the student and can help support their learning. Native Language Tutors are also available for translation needs to better connect our families to Place Bridge Academy.